I love the parables of Jesus Christ. As a child, they were some of my favorite stories. When I was a teenager, one of my teachers explained that the parables were more than stories; they had deeper meaning to discover. Listening to him, I felt as though I had just unearthed a treasure chest! I then read through the Four Gospels in the New Testament, motivated to figure out what Jesus wanted to teach those who had faith and desire to learn.
Bruce R. McConkie, a late apostle of The Church of Jesus Christ of Latter-day Saints (often mistakenly called the Mormon Church), said that the parables "are the mild milk of the word that prepares our spiritual digestive processes to feast upon the doctrinal meat of the kingdom."1 Jesus Christ's parables have become more meaningful to me as an adult. Through them I often feel Jesus teaching me the significance of my experiences. His love and tender mercies are more apparent when I look for a connection between my life and His parables.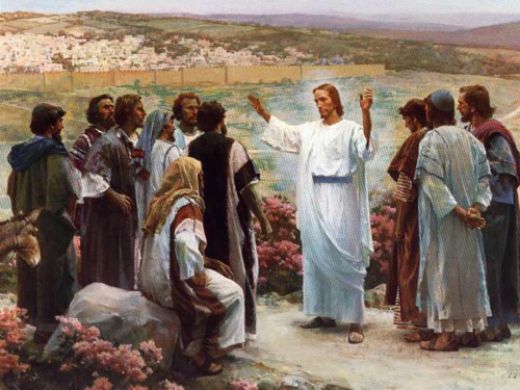 Two of my favorite parables are known as the unjust judge, or the importunate widow (Luke 18:1–8), and the importuned friend, or the friend at midnight (Luke 11:5–13).
Soon after my divorce, I applied for a job that I both needed and wanted. The selection process was intense: two tests and three interviews. With each step I felt hopeful yet anxious. I prayed earnestly and persistently that God would help me get this job. I also read my scriptures. One day I opened my New Testament and noticed that I had written in the margin by the parable in Luke 18: "parable of perseverance in prayer."
And he spake a parable unto them to this end, that men ought always to pray, and not faint;

Saying, There was in a city a judge, which feared not God, neither regarded man:

And there was a widow in that city; and she came unto him, saying, Avenge me of mine adversary.

And he would not for a while: but afterward he said within himself, Though I fear not God, nor regard man;

Yet because this widow troubleth me, I will avenge her, lest by her continual coming she weary me.

And the Lord said, hear what the unjust judge saith.

And shall not God avenge his own elect, which cry day and night unto him, though he bear long with them?

I tell you that he will avenge them speedily. Nevertheless when the Son of man cometh, shall he find faith on the earth?
In the footnotes I had written "see also Luke 11:5–9." In the margin of that passage I had written: "parable of supplication."
And he said unto them, Which of you shall have a friend, and shall go unto him at midnight, and say unto him, Friend, lend me three loaves;

For a friend of mine in his journey is come to me, and I have nothing to set before him?

And he from within shall answer and say, Trouble me not: the door is now shut, and my children are with me in bed; I cannot rise and give thee.

I say unto you, Though he will not rise and give him, because he is his friend, yet because of his importunity he will rise and give him as many as he needeth.

And I say unto you, Ask, and it shall be given you; seek, and ye shall find; knock, and it shall be opened unto you.
I could not recall when I had written those words in the margins—probably while taking a college religion class—but the significance to my current situation was compelling. I read and reread those passages and prayed diligently that God would meet my needs by helping me get this job.
One evening while reading those parables and praying, I noticed in the footnotes a correction Joseph Smith had made to verse Luke 11:5. Latter-day Saints (often mistakenly called Mormons) believe that Joseph Smith was inspired by God to make corrections and clarifications to some of the verses in the King James Version of the Bible.  The verses he translated can be found in the footnotes of the English King James Version of the Bible.  He had added to the beginning of the verse: "And he said unto them, Your heavenly Father will not fail to give unto you whatsoever ye ask of him." I felt confident that this was God's promise to me that He would answer my prayer and give me this job because I had persisted in praying for His help.
I did not get the job, however. At first I was devastated and perplexed. I had been so sure God knew my need and would give me that job. What went wrong? Why didn't I get that job? I decided not to give up. I continued to pray that He would bless me with a job to take care of my family and myself.
A couple of years later I obtained a similar job—one that was better suited to my circumstances.
Through the parables of persistence in prayer, God taught me to trust Him and His timing. God did not fail to give me what I asked for. And He gave me exactly what I needed.
Notes:
1. Bruce R. McConkie, The Mortal Messiah, 4 vols. (Salt Lake City: Deseret Book, 1979-81), 2:245.
This article was written by Paula Hicken, a member of The Church of Jesus Christ of Latter-day Saints.

Paula Hicken was an editor with the Neal A. Maxwell Institute for Religious Scholarship from 2000 to 2013. She earned her BA degree in English from Brigham Young University. She edited Insights, the Maxwell Institute newsletter, and was the production editor for Faith, Philosophy, Scripture, Hebrew Law in Biblical Times (2nd ed.), Third Nephi: An Incomparable Scripture, and was one of the copy editors for Analysis of the Textual Variants of the Book of Mormon. She also helped manage the Maxwell Institute intellectual property and oversaw rights and permissions. She has published in the Ensign, the Liahona, the LDS Church News, and the FARMS Review.
Additional Resource: